"Take the helmet of salvation and the sword of the Spirit. which is the word of God. And pray in the Spirit on all occasions with all kinds of prayers and requests. With this in mind, be alert and always keep on praying for all the Lord's people."
-Ephesians 6:17-18
Need Prayer?
Chapel by the Lake is a praying community; we have a team of praying warriors ready to take your requests before our Heavenly Father.
Ann Lockhart
UPDATE 11/11: The heart procedure was only successful for 2 days. Please pray for discernment as to what the next treatment can be.
UPDATE 11/2: Bill had his heart procedure done this morning and it was successful. He feels so much better already. Both he and Ann are grateful for your prayers.
Please pray for Bill Lockhart, who is having a heart procedure in CCU early tomorrow morn. Pray that the cardio version will successfully restore normal heart rhythm & help him regain his strength. May God's healing & peace be ever present!
Received: November 1, 2023
Join the Prayer Team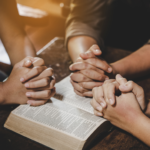 Would you like to receive Prayer Wall Notices? You can be a part of the CBTL Prayer Ministry.
Prefer to pray with a group? Wednesday Night Corporate Prayer via Zoom. Contact the church office for Zoom information.