"Take the helmet of salvation and the sword of the Spirit. which is the word of God. And pray in the Spirit on all occasions with all kinds of prayers and requests. With this in mind, be alert and always keep on praying for all the Lord's people."
-Ephesians 6:17-18
Need Prayer?
Chapel by the Lake is a praying community; we have a team of praying warriors ready to take your requests before our Heavenly Father.
Adam Rice
Chapel Friends,
My family and I have been evacuated from our home and we are on our evacuation at Camp Bighorn. We have our college students and will need to care for them as well as ourselves away from our home. The wildfire is burning all around our little town and burning over the mountains toward our camp. Please pray for a shift in the wind that will burn the fire back onto itself.
Received: August 18, 2023
Join the Prayer Team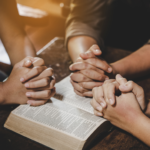 Would you like to receive Prayer Wall Notices? You can be a part of the CBTL Prayer Ministry.
Prefer to pray with a group? Wednesday Night Corporate Prayer via Zoom. Contact the church office for Zoom information.