"Take the helmet of salvation and the sword of the Spirit. which is the word of God. And pray in the Spirit on all occasions with all kinds of prayers and requests. With this in mind, be alert and always keep on praying for all the Lord's people."
-Ephesians 6:17-18
Need Prayer?
Chapel by the Lake is a praying community; we have a team of praying warriors ready to take your requests before our Heavenly Father.
Catherine Watson
Please continue praying for Rachel Doogan: She is battling an autoimmune disease. Her immune system is attacking her platelets. Doctors are working to stabilize her platelet levels; they dropped to 7. She was at hospital today to get IV Ig (immunoglobin) to tamp down her immune system… A five hour process.
Received: August 18, 2023
Join the Prayer Team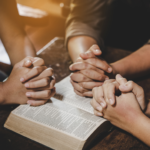 Would you like to receive Prayer Wall Notices? You can be a part of the CBTL Prayer Ministry.
Prefer to pray with a group? Wednesday Night Corporate Prayer via Zoom. Contact the church office for Zoom information.